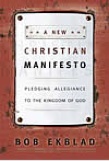 A New Christian Manifesto: Pledging Allegiance to the Kingdom of God
This book is a powerful rereading of the Lord's Prayer and a call for the church to reject existing power structures by pledging allegiance to the kingdom of God and proclaiming the gospel for all, especially those cast outside the mainstream of society. Bob Ekblad delivers

Lift Up Your Voice: The True Prophetic
Get ready to embrace the true prophetic–that which is modeled by Jesus, who wants to empower all of us to move in prophetic ministry.
4 audio CDs with Bob Ekblad
Reading the Bible with the Damned by Bob Ekblad
Bob Ekblad has raised an ominously serious question…what does the Bible say to the suffering down our street – and out in the fields where our supermarkets get our produce? The responses are both enlightening and challenging . . .
Reading the Bible with the Damned: Genesis 1 – 4
Join Bob Ekblad in taking a fresh look at familiar stories from the first four chapters of Genesis in this 3-audio CD set. Discover how these accounts show God's solidarity with us, both then and now. Embrace the good news that frees us from negative images of God, ourselves, and others.
3 audio CDs
Reading the Bible with the Damned: Meeting the Good Shepherd – Psalm 23 & Luke 15
In this continuation of the Reading the Bible with the Damned series, Bob Ekblad takes us on a journey through Psalm 23 and Luke 15, where we meet the Good Shepherd who protects us from enemies and powers that seek to oppress us and destroy. If you're in need of good news, this audio teaching will lift your spirit and give you a fresh perspective on the goodness of God.
1 audio CD